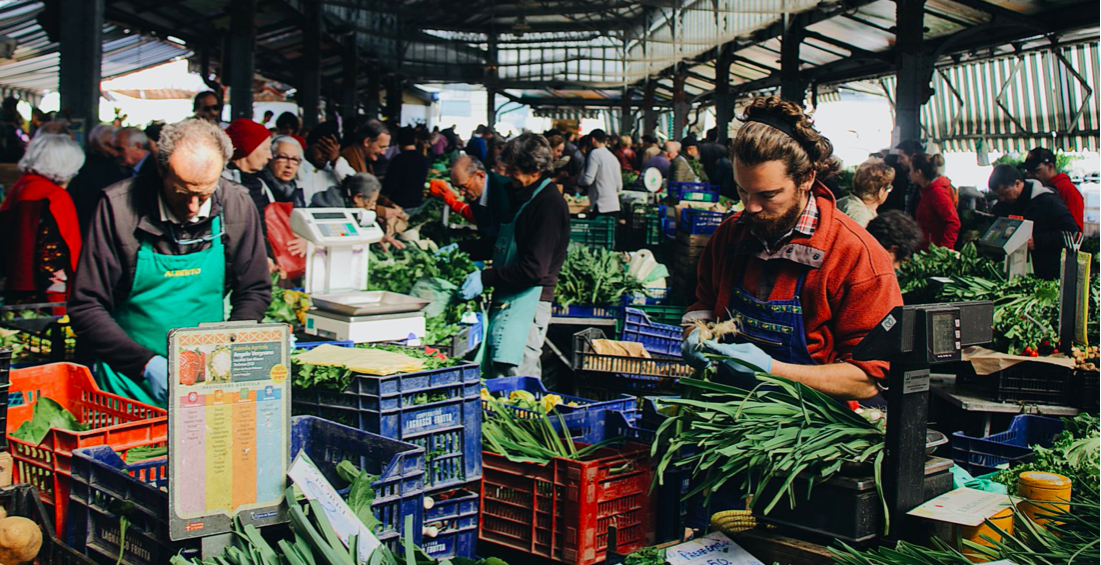 Reconnecting people to local food production – The French case
If there is an image that illustrate the arrival of the pandemic and the lockdown, it is that of empty shelves in supermarkets. Worried about what would happen to major distribution channels, people took precautions. Retailers have been left unprepared to this burst of panic.
In March 2020, some products started missing in gorcery stores and we still knew very little about the actively circulating virus. To avoid crossing the path of too many people in supermarkets, and to support local shops, , consumers slowly turned to small producers. Farmers' markets and direct selling did not araise as a result of the confinement, but they certainly gained some adepts thanks to it. La Ruche qui dit oui, a french network of AMAPS (Maintenance Association for Peasant Agriculture) recorded a high sales increase in March 2020 : it's revenue grew by 70% et the size of the average basket they sold was raised by 30% (Schaub et Massiot, 2020). Therefore, not only did they have more clients, but they also sold more to each of them.
Tools to eat local products easily during lockdown
In March 2020, open air markets were among the activities that were forbidden to avoid gatherings. The National Federation for organic agriculture (FNAB) and the Confederation for Peasant agriculture encouraged people to go buy their food on farms. To make it easier, the two organisations identified and published a list of all the platforms for online buying, the short circuits networks and specialised search engines.
The FNAB and Confederation for peasant agriculture also created a document gathering all the direct sales alternatives, sorted geographically. The first part identifies what has been done by communities. There are maps of short circuits as well as measures to provide selling facilities for local producers. The second part of the document shows initiatives taken by associations or individuals. The established measures facilitate home delivery, grouped orders and getting in touch with a customer or a producer.(http://confederationpaysanne.fr/sites/1/articles/documents/2020_03_26_Doc-FNAB-CONF-Alternatives.pdf).
Maintaining short circuits, even after lockdown
There are multiple advantages to short food channels. For the consumer, it guarantees a good traceability and can cost less. The act of buying itself is completely different, for it creates a social interaction and there is the possibility to be advised by the producer. Of course, it is also a lot more pleasant than to shop in a supermarket. For the producer, this way of selling grants a better remuneration and rids him of all the intermediaries. It also allows him to meet his clients and inform them about his production system. Finally, there are environmental benefits as well : decrease in CO2 emissions due to less transport, wrapping and waste reduction, more seasonal products etc.
The french government encouraged short food circuits development through the creation of the internet platform fraisetlocal.fr (https://agriculture.gouv.fr/lancement-de-la-plateforme-fraisetlocalfr). The ministry of Agriculture and Food started this project that helps find producers near one's position. They can be selected by type of food (fish, meat, dairy, fruits…) or according to the sales mode (farmer's shop, market, drive-in …). Released on the 12th of January 2021, it already shows over 8000 farms and selling spots in France.
Finally, direct sales is not just a matter of consumption. It requires managing a new activity, which demands new skills from farmers. Wizifarm has tackled this problem and is trying to answer it by developing an online assistant: Prosper. It will aim to facilitate selling through short food circuits for farmers, including administrative tasks (WiziFarm, 2020).
People helping farmers: a better comprehension of the agricultural world?
Closed borders and lockdowns quickly impacted the number of foreign workers and seasonal work force became scarce. One solution was to ask the locals who could not work during confinement to give a hand. Measures were put in place to symplify the process of contracts creation. As a result, people having a part time job, or who lost their job because of COVID, or who simply could not go to work found themselves with a new possibility. Both fixed term or open-ended contracts were created more easily, thanks to, among other things, shortened notice periods. Furthermore, workers could obtain this extra salary without losing the government's financial aids. This led to a win-win situation, with farmers getting the help they needed, and helpers benefitting from an outdoors activity making them feel less confined.
Other than the adminisrative aspect, some measures also helped put farmers in touch with volunteers. Firstly, authorizations were given to move further away from one's home than the one kilometer allowed during lockdown, thus not limiting where the helpers could go. Also, an internet platform, « Des bras pour ton assiette » (arms for your plate), played a great role in the success of farm helping. Created by the FNSEA (the main French agricultural union), it gave anyone the possibility to sign up as a volunteer, which made it easier for farmers to look for help. The impact of this platform is undeniable : over 15 000 contracts were signed through it during the first lockdown.
Some volunteers however, found the job too difficult and stopped earlier than planned. Christiane Lambert, FNSEA president, declared on French radio in May 2020 that "his shows the difficulty of these jobs". The Covid-19 crisis, with all its lockdowns, with empty shelves in the stores, with farmers working relentlessly (as did so many other essential workers) … Did this crisis, with all the noise it made, help the agricultural world's voices be heard ? Maybe the way the general population considers the people feeding her will have changed a bit.